Individual Studies Students in India and in Singapore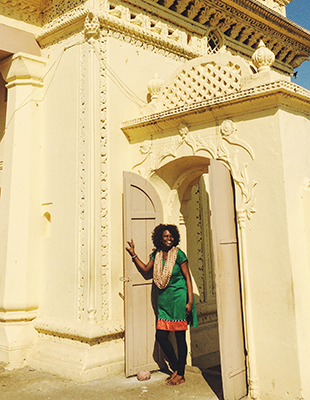 Sade Ayinde and Irene Solaiman are Individual Studies (IVSP) students who have used the majors they have crafted in IVSP to extend their academic lives far beyond the College Park campus to study in India and in Singapore.
Sade Ayinde (pictured left in India) is a junior IVSP major in Global Economics Development and Policy. "As an IVSP major," Sade says, "I study the cross disciplines of economics, international development and public policy." She recently returned from Bangalore, India, where she traveled as a 2015 Rosalie Reilly Gubernatorial Public Policy Fellow. While in India, Sade engaged in service learning and studied development issues. In spring 2015, as a Global Semester Fellow, she served as an Economics and Statistics Intern for the U.S. Department of State.
Sade, who immigrated from Ghana to the U.S. at the age of six, has also received a fellowship from the Woodrow Wilson School of Public and International Affairs for the Junior Summer Institute at Princeton University, where she will study during the coming summer.
"IVSP was the best decision that I've made at Maryland," said Sade. "It has given me the support and freedom to passionately and constructively pursue my goals. With IVSP, I am given the tools to independently and proactively think of my future and intended impact in the world."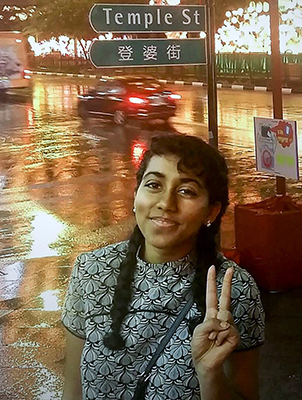 Irene Solaiman (pictured left in Singapore) is a Banneker/Key scholar and a junior in IVSP. Her major is International Relations. "IVSP empowers me," she said. "It gives me far more than opportunity and flexibility. It makes me the leader of my life and my path in the university ... and the support continues even when I am on the other side of the world!" Irene is studying abroad this semester at National University in Singapore. In summer 2015, she interned at the U.S. Department of State in the Bureau of Near Eastern Affairs, and she has been authorized for a U.S. embassy posting in Dar Es Salaam, Tanzania this coming summer.
Individual Studies is a degree-granting academic program that enables talented and exceptionally self-motivated students to construct their own unique, interdisciplinary majors. Under the careful guidance of faculty mentors, a faculty review board, and the IVSP staff, students create such individualized majors as Minority Advocacy and Public Policy, New Media and Global Civics, Hominin Evolution, and Entrepreneurship. As the program director, Dr. Joan Burton, said, "We work hard to provide these exceptional students with the kind of informed and engaged support system and opportunities that enable them to achieve their ambitious academic and professional goals." IVSP alumni include students pursuing graduate studies at Oxford and Cambridge University, gaining employment at the Pan American Health Organization and with the International Organization for Migration for the United Nations, and setting up their own start-up companies.