Winter 2019 Newsletter
Gilman Scholars "Get a Place at the Table"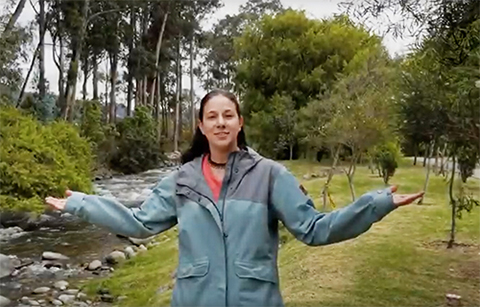 Amanda Mason '18 traveled to Ecuador as a Gilman Scholar, and interned as a community consultant with the Maryland Social Entrepreneur Corps in Ecuador.
The Gilman Scholarship "Offers students who may not have had the same kinds of opportunities as their peers, a 'Place at the table,' as one former Gilman Scholar told Dr. Leslie Brice of the
National Scholarships Office
. The Scholarships Office assists students applying for the Gilman Scholarship and promotes the scholarship to the UMD campus.
"For students who have difficulty carving out the time to study abroad and meeting the expenses to do so, Gilman can make a difference in helping them to achieve their academic, career, and personal goals," notes Dr. Brice.
The U.S. Department of State's Benjamin A. Gilman International Scholarship is for students of limited financial means to study or intern abroad. The program is limited to students who are recipients of a Federal Pell Grant and are U. S. citizens. These requirements have ensured that the scholarship is awarded to undergraduate students who have been historically underrepresented in education abroad. As an added bonus, former Gilman scholars are eligible for certain hiring advantages within the federal government.
Gilman Scholar Amanda Mason '18 traveled to Ecuador and created this video to showcase her experiences in there.
UMD students were awarded 26 Gilman Scholarships this past fall, the second highest in the nation. At the University of Maryland, the National Scholarships Office works in conjunction with the Office of Financial Aid and Education Abroad in bringing the Gilman Scholarship to undergraduate students.