College Park Scholars

College Park Scholars is a nationally acclaimed living and learning program that offers outstanding students the best elements of a small residential college and a large public research institution. Each of its two-year programs for freshmen and sophomores provides a close-knit community and a challenging academic experience.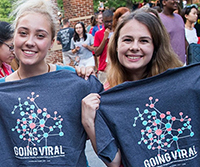 Scholars connects students with exciting and unique research and internship opportunities available only at a major university located right outside the nation's capital. The program propels students to excel on campus, in the community, and in their careers. The College Park Scholars Annual Theme brings our community together to engage in a shared intellectual experience. The program takes on a complex, multifaceted problem that demands thoughtful, creative, hands-on solutions. This year's themes is Going Viral: The Spread of Illness, Imagery, and Information in the Modern World. Past themes were Power: Citizenship, Circuits, Societies in 2016-17, and in 2015-16, Trash: The Problem of Waste in Our Lives and World.