SPOTLIGHT: FEDERAL FELLOWS PROGRAM AND GLOBAL FELLOWS IN WASHINGTON, DC PROGRAM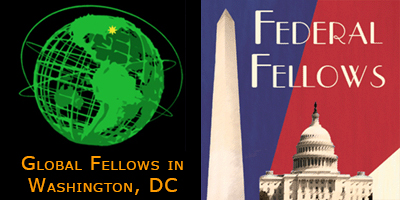 Federal Fellows combines a fall seminar course taught by industry experts with professional development workshops, one-on-one resume and interview reviews, and federally-related events throughout the year. The program's mission is to prepare talented and diverse undergraduate students to excel in professional internships and to pursue careers of influence and impact, especially in the public sector. During the fall semester, students learn about the policy-making process and discuss subject-based issues in a seminar course led by an industry expert. In the spring semester complete a spring internship in a federal agency, Congressional office, or related organization — including NGOs, nonprofits, think tanks, or private industry. In the internship, they apply lessons from the seminar course and supplementary courses to real-life situations.
Global Fellows in Washington, DC follows the same curriculum model and combines the fall seminar course with the spring internship. The program is designed to equip University of Maryland undergraduate students with the knowledge, skills, attitudes and experience necessary to become leaders in our increasingly globalized society. Global Fellows students participate in an integrated combination of classroom and direct professional experience designed to provide a deep understanding of global leadership and policy, and the ways in which the two are developed, influenced, and carried out.